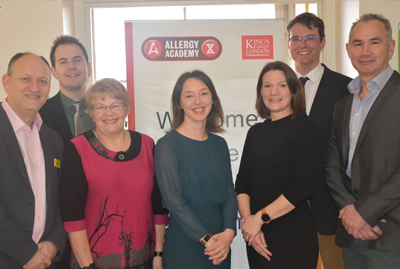 ALLERGY ACADEMY 10 YEAR ANNIVERSARY
We were first established as a response to the House of Lords Science & Technology Committee report into Allergy services, where the challenge was laid down to provide a more accessible and comprehensive educational offering.
We have run courses internationally for a wide range of learners; from trainees, GP, to consultants, expert nurses, health visitors, dietitians and school nurses. We are familiar with large congress events and practical seminars which are designed to transform the care you can deliver to patients. Our education is at the cutting edge of care in allergic disease, and our recommendations represent best practice from primary through to quaternary care.
We have taken the exciting step to offer all our large study days as 'Allergy Online' streaming events, whilst maintaining our practical 'Allergy in Practice' seminar teaching in-person at-physical-distance. We have a strong relationship with our technical delivery and audio-visual teams and are confident that we are bringing a flexible and innovative approach for you to curate your learning around our events and recorded library of materials support within the Allergy Academy website.
The generosity and support of our sponsors has allowed us to keep delegate expenses very low, and maintain the dedication and expertise of the many speakers who contribute to our cutting-edge offering. We look forward to hearing from you - sign up, sign in and let's hear your questions and views!